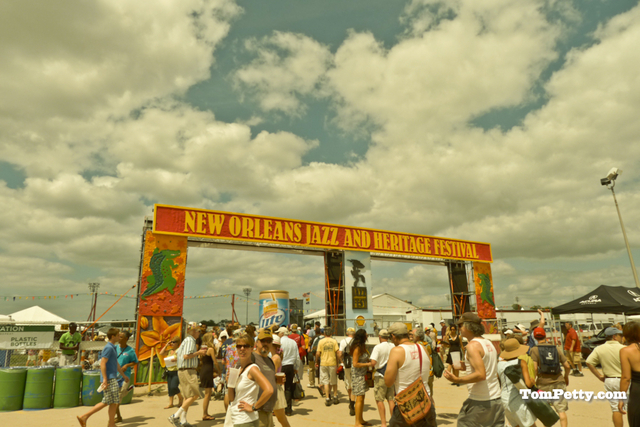 TOM PETTY SIGUE DE GIRA POR LOS USA HASTA QUE ESTE VERANO CRUCE EL CHARCO PARA RECALAR POR EUROPA. YO TENDRÉ LA OPORTUNIDAD DE VERLO EN ALEMANIA... DE MOMENTO DISFRUTO SIGUIENDO PARTE DE SU GIRA . ESTE PASADO SÁBADO ACTUÓ EN NEW ORLEANS EN EL FESTIVAL DE MÚSICA MÁS IMPORTANTE DEL MUNDO. NEW ORLEANS ES LA CUNA DE ESTILOS YUN VERDADERO HERVIDERO MUSICAL, COMO PODRÁS LEER A CONTINUACIÓN EN EL COMUNICADO QUE SALIÓ EN LA WEB DE TOM PETTY SE LO PASARON EN GRANDE.
SOLAMENTE ESPERO UN SET-LIST COMO ESE PARA ALEMANIA... O QUIEN SABE SI INCLUSO LO SUPERAN.....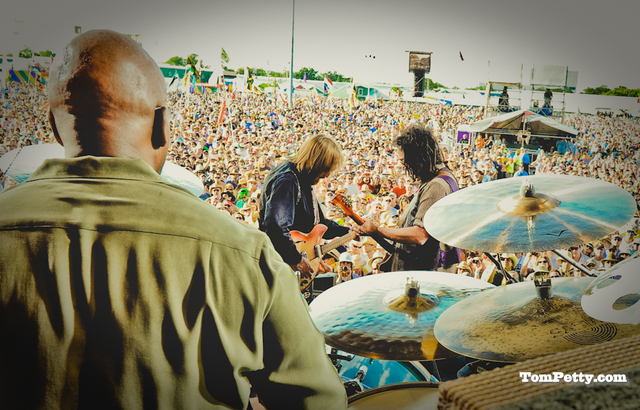 "I can feel the mojo in this place. Can you feel the mojo?"

Tom Petty smiled widely out over the sea of 60,000-plus screaming fans gathered in front of the Fess stage for the Heartbreakers' headlining set on Saturday at the New Orleans Jazz & Heritage Festival.

New Orleans holds a special place in the hearts of musicians and music aficionados as the Crescent City's cultural heritage - comprised of Spanish, French, African and Creole influences - has resulted in a veritable melting pot of music. Jazz, blues, funk, cajun all call NOLA home, and JazzFest celebrates this legacy every April and May with almost two weeks of non-stop music throughout the city, attracting hundreds of thousands of visitors from around the world.

The mood was set for the Heartbreakers by a fantastic set of New Orleans standards earlier in the day on the Fess Stage from the Voice of the Wetlands All-Stars featuring Tab Benoit, Dr. John, Cyril Neville, Anders Osborne, Big Chief Monk Boudreaux, Johnny Vidacovich, Johnny Sansone, Waylon Thibodeaux and a special guest sit-in from Galactic drummer Stanton Moore.

Tom and the band were certainly feeling the vibe onstage Saturday, playing a set just short of two hours that featured a great "Something Big," the return of the band's cover of JJ Cale's "Travelin' Light" and culminating with an incendiary "Mary Jane's Last Dance/American Girl" encore.

As Tom and the guys gathered at the front of the stage to wave goodbye to the JazzFest faithful following the last notes of the encore, the sun dipped below the horizon of the Fairgrounds, the end of a historic day in Heartbreakers history.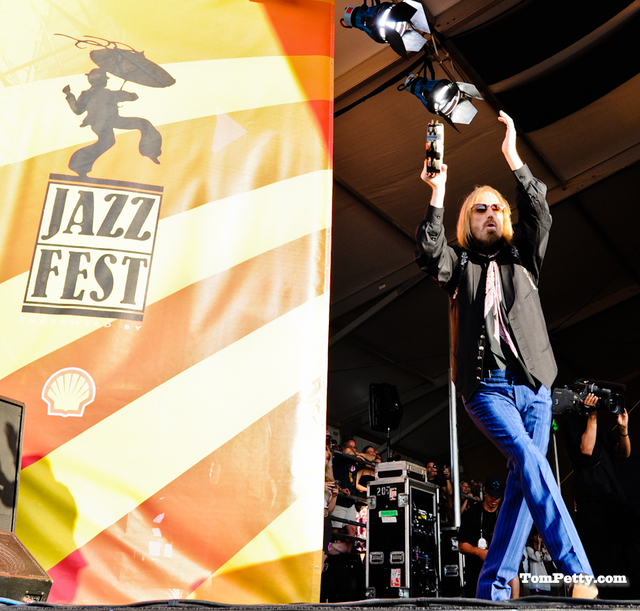 SET LIST
Listen to Her Heart
You Wreck Me
I Won't Back Down
Here Comes My Girl
Handle with Care
Lover's Touch
I'm A Man
Something Big
Have Love Wi
ll Travel
Free Fallin'
Spike
Travelin' Light
Time to Move On
Learning to Fly
Yer So Bad
I Shoulda Known It
Good Enough
Refugee
Runnin' Down A Dream

ENCORE:
Mary Jane
American
Girl